Our Work Comes With a Personal Touch
Hardrock Landscape Construction Company is family-owned and operated business right here in the Metro Atlanta area. Our landscaping services include garden design, landscape design, outdoor lighting, and much more. Our hardscape services include patios, pavers, and flagstone, just to name a few. We provide many additional services which includes sod installation, artificial turf, and putting greens, and so much, much more. With nearly 100 services available, our team is ready and able to help you choose the best and more cost-efficient way to achieve your landscaping goals, but to also plan, design, and construct them as well. In business since 2000, we are an award-winning landscape company that defines its success based on how we treat every customer we meet and work with along the way. Other companies may offer similar landscaping and construction services, but no other company in the metro Atlanta area does it with our personal touch, expectation for excellence, and satisfaction from our customers. We take pride and joy in taking a homeowners' idea and vision and turning it into a reality.
We enjoy our work and more importantly we enjoy seeing our customers happy and living their dreams out. A team of pros, we pride ourselves in being able to visualize landscaping ideas with our customers, create their unique custom projects to fit their budget, and build it out to meet their tastes and style.
Our customers and their complete satisfaction is important to us. To that end, we provide industry-leading customer service (our call center is available 7 days a week), and maintain relationships with our customers for years to come. Our friendly staff makes certain each and every one of our customers is 100% satisfied.
We invite and encourage you to engage with us by scheduling a free consultation. Talk with us about your landscaping and/or construction projects and find out what Hardrock Landscape Construction Company can do for you. Get ready to experience the Hardrock difference.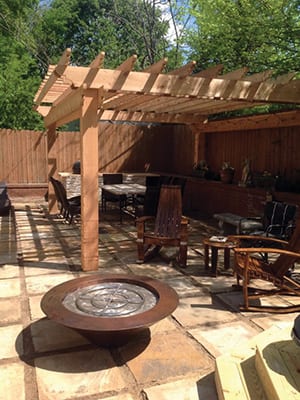 Testimonials
Relationship: Client
Project Date: Jun 2018
I contacted Casey to design a complete backyard renovation. He listened to our wants and asked us what our budget was. He was able to design an amazing stone patio a fireplace and an outdoor kitchen. He implemented a landscape plan that was flawless. He also included an irrigation system to sustain the beautiful plants and trees he planted. We would recommend Casey to all of our friends and neighbors.
Relationship: Client
Project Date: Feb 2014
I had a great experience with Casey. We had two areas completed – one new patio with stacked stone wall, and a walkway. Several other stone items too (steps, etc.). He completed all on-time and the work quality was great. When we had a slight settling issue on the patio (it was built-up about 4 ft of new dirt, so not unexpected) he was back out within the week to re-level and fit everything himself.
HIGHLY RECOMMENDED!! I am extremely satisfied with the professional and courteous service I received from Hardrockscapes. Extremely professional! After arriving at the house for an estimate, he sat down with us, made sure we understood not only the quote but the work that would be performed. We were given several options to choose from. This was big job, old patio had to be taken out, concrete had to be removed, lawn had to be leveled, sod had to be laid down and some small trees/bushes had to be removed. Work was completed ahead of scheduled. After it was completed, we were so impressed! It didn't even look like the same yard! Highly recommended for their professionalism, customer service and experience! (I am unsure of the exact date.)
I'm very satisfied with the work Hardrock Landscape did for me. I had a drainage issue causing erosion in the backyard that Hardrock address with the installation of a channel drain at the end of my driveway and a dry creek bed to carry excessive rainwater beyond my back fence line. Work was done ahead of schedule and no cleanup needed to be done on my part after the work was done.
Our Services